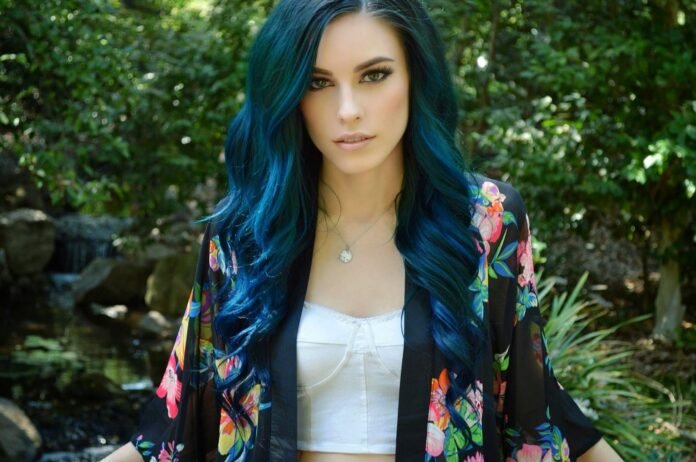 Blue Black Hair Tips And Styles
With all of the rainbow hues that continue to be the trendiest choices in hair color, blue black hair lands on the darkest end of the spectrum. These sultry hues are perfect for women who want to experiment with hair color, but aren't interested in bubblegum pink or sweet pastel lavender. In rich jewel tones from sapphire and cobalt all the way to ultra deep hues that look pure black until the light hits them, blue black hair offers a mature and mysterious way to experiment with your color. We've compiled a list of our favorite blue black styles, along with tips about how to achieve these colors, and which one looks best on you.
1Tips For Blue Black Hair
The least damaging way to go blue black is for women with blonde or brunette hair who are looking to go for a darker shade like squid ink or navy blue. If you're looking to add brighter and more vibrant shades into the mix, be prepared to pre-lighten hair, especially if you're adding highlights over hair that you've just dyed black. Like with any unnatural color, fading happens, and we recommend you wash with cold water and sulfate free shampoo to prevent your new blue color from escaping down the drain. Blue tones are especially flattering against cool skin tones, and women with dark, cool skin can pull off the deepest blue black shades. If you've got a warmer tone, we recommend sticking to gem tones in blue and turquoise that will bring out warmth in brown eyes.
2Oxford Blue
This gorgeous blue black style features subtly dimensional color in deep shades of blue. Saturated tones like these ones are especially flattering on deeper skin tones with a cool undertone.
3 Blue On Black Balayage
With midnight blue highlights painted on to a natural black background, this style showcases the amazing results when you combine modern coloring techniques and slightly out-there hair color. Wonder Woman would be proud!
4Blue Black Curls
These long curls look electric when highlighted all over with varying shades of blue, making them the icing on the cake of this all blue, monochromatic look.
5Classic Blue Black Style
Perfect for women who are looking for hair with a tiny hint of blue instead of in-your-face color, this classic blue black shade is so dark, most people will call it black. If you're looking to color your hair at home, many box dyes come in this shade, and it's an easy process that doesn't involve any pre-lightening.
6Dark Denim Bob
This blue black style capitalizes on the denim hair trend, leaving some natural black roots before fading into the bluish grey color of your favorite jean jacket. Although we seem to see more blue black styles on long haired women, it looks great with this chic, curly bob.
7Cerulean Blue Ombre
With the lower half of hair in a bright, cerulean blue, this is a good blue black choice if you're concerned about lightening all of your hair in order to achieve the style.
8Layered Peacock Bob
Leaving the top layer in a natural black shade, this stacked bob has layered blue and turquoise shades that remind us of the brilliant eye in a peacock feather.
9Stony Blue On Black
Another great example of the balayage technique, this style shows how well a dark blue highlight complements natural black hair. If you'd prefer an unnatural color that's less drastic than pastel and candy colored shades, look no further!
10Navy Dark Blue Bob
This chic navy bob is perfect for fall styling. Pair it with gothic style elements like these round framed glasses and locket choker for a fashion forward mixture of modern and antique.
11Washed Out Denim Balayage
In this style, a muted blue grey tone is applied with a light touch over natural black hair. This sophisticated take on the denim hair trend will have even the most conservative ladies thinking about adopting a blue black style.
12Electric Sapphire
This is what we imagine a super hero's hair would look like if she made time for regular trips to the salon. With long hair that's been lightened to achieve a vibrant blue palette that transitions from dark sapphire at the roots to electric cobalt at the ends, regular upkeep and attention are a must!
13Blue Dipped Curls
If you love blue black styles but want to protect your natural hair, try using extensions with ombre color for your next crochet braid style. If you're looking to add a touch of blue to your existing style, you can try using a cosmetic product like gel liner or cream eyeshadow to get these blue tips.
14Darkest Blue Black
This deep blue black is an exceptional choice for bringing out the warm tones in brown or golden eyes. If you're a natural blonde or brunette, you can get this dark blue black shade without any pre-lightening treatments. But just like with black dye, this color won't do much fading once it's applied.
15Blue Black Vintage Style
We love the combination of these vintage victory rolls with a very young, scene style take on blue black hair. While it's commonly suggested that women with porcelain skin should avoid black tones in hair that can completely wash them out, this can be a striking, deliberate look if you're looking to embrace your pale tones.
16Sleek Black And Blue Bob
Featuring a high sapphire blue ombre over jet black hair, this sleek bob shows how sophisticated blue hair can be. If you want to wear this style as your hair grows out, consider blending the ombre to create a more natural effect.
17Steel Blue Ombre
With a light, steely ombre over the ends, this natural black hair would have been chemically lightened to get to this stage. Keep in mind the potential damage before jumping into this look, and be willing to lose a few inches to keep your ends healthy post bleaching.
18Vibrant Blueberry
While she's almost always wearing a heavy bang, Carly Rae Jepsen loves to play with her hair color, and we've seen her wear everything from jet black to warm ginger. This vibrant blueberry look is a nice alternative to a more standard deep brunette color, and plays wonderfully against her pale, cool skin.
19Gradient Turquoise Cut
We love the combination of a traditionally masculine haircut with bold color choices in hair and makeup. This slicked back style is a natural black shade on one side, while the rest of the hair features a gradient of turquoise and blue. For an added pop of color, lips in a dark eggplant add more richness to the palette without clashing.
20Deepest Dark Blue Navy
This sophisticated navy blue looks rich and luxurious, especially on long, curled hair. You can pair this blue black hair with anything in your wardrobe, and we think it looks equally stunning with fall and winter neutrals as it does with bright colors in spring.
21Cornflower Highlight
Is your jet black hair getting boring? This bold approach to highlighting features one bright patch of cornflower blue, creating a fun hairstyle with a cheeky nod to anime.
22Long Indigo Style
This blue black style mixes in some deep purple tones to create a style that reminds us of violet flowers. For an even more intense style you can try mixing more blue throughout the hair in a balayage style.
23Muted Blue Grey Style
Blue and grey colors blend together over natural black hair in this watercolor-inspired style. Somewhere between playful and mysterious, this style impressively mixes shades without looking too busy.
24Hint Of Blue Tips
If you're only ready to dip a toe into the world of blue black hair, these midnight blue tips are the perfect place to start. Although you'll have to lighten your ends to achieve this color, you'll be causing minimal damage if you decide to go back to a more natural shade.
25Inky Blue Black Hair
Kendall Jenner's elegant updo is perfectly accented by this squid ink color that's mostly black, but shines deep blue in some spots. Because it's so subtle, this shade functions like a neutral, and looks good with all of your wardrobe and makeup options.
26Ocean Blue Shine
Want to wear blue black hair without feeling like a cartoon character? With a subtle blue shine the color of deep tropical waters, this simple blue black style proves that sometimes less is more.
27Secret Blue Violet Layer
This little hint of color in your black hair remains secret when your hair is worn down, but adds a bright pop to updo styles like buns and ponytails. If you're into braided styles, this color job will leave a pretty blue streak running through your next set of dutch braids.
28Blue Black Hair Dye With Silver Accents
If you're dying to look like a blue haired fairy goddess, this is the look for you. This blue black style is accented with thin strips of silvery white throughout, creating the illusion that hair is illuminated from within.
Похожие новости
Fantastic living rooms 2018
African traditional dresses for bridesmaids 2018
Yellow diamond engagement rings tiffany 2018
Cute shoes for kids boys 2018
Stradivarius august 2018 lookbook
Top hair products list 2018
ШОКИРУЮЩИЕ НОВОСТИ