Using a Value Proposition Letter (VIDEO)
How to Write a Value Proposition Letter
Four Parts:
Every potential job candidate seeks to outshine the competition not only through their resume but also in person. To make that happen, you need to let your prospective employer know what value you can bring to the table and how you are uniquely qualified to help the company succeed. Sending a potential employer a value proposition letter prior to your interview will help you to sell your skills and achievements and set you apart from the crowd, before the interview even begins.
Steps
Understanding the Purpose of a Value Proposition Letter
Be aware that a value proposition letter is a way to sell yourself to a potential employer.From an employment perspective, value proposition is a summary of why the organization should hire you. This is literally presenting yourself to them as a product, considering your potential employer as the target market. Essentially, a value proposition is a statement that you use to compel potential employers to hire you by telling them that you have the solution to their problem.

Understand that this letter is meant to set you apart from the crowd.

Your value proposition letter is intended to set you apart from your competition. However, it will only do this if it is well written and presented in an organized way.

Since the letter outlines your skills, work ethics and traits, it sets you apart from others during the interview process because you have more to talk about than what was written on your resume. Instead, you get to focus on how the company will benefit by hiring you.
The letter focuses on your value by demonstrating how you will apply your skills to the job opportunity at hand and what financial value you can add to the current functions. Many times a hiring manager is not just looking for someone to fill the position, but is looking for someone who fits into the company culture.
A good value proposition letter demonstrates that you understand the hiring process really well and know exactly what the hiring manager is looking for. It tells them that you have focused on their needs from the very outset of the interview process.

Be aware of what this sort of letter addresses.

A value proposition letter:

Addresses a problem/problems that the company is facing.
Provides proof that you are capable of tackling this problem.
Uses short sentences and paragraphs to keep the reader's interest.
Uses specific metrics and facts for instant credibility.
Is written in a conversational tone and is normally 150 words or less.
Understanding Your Own Value
Be aware of the importance of doing a self-evaluation.In order to let your prospective employer know your distinctive value, you should first have a good grasp of the basics i.e. understanding your own value. You should do a small self-analysing session prior to actually starting to draft your value proposition letter.

List roles you have filled.

This pertains to the job title or titles you held while working with different employers. Expand further to describe the duties associated with each title.

If you had been a project manager, your duties might have included initiating, planning, implementing and monitoring the project, supervising the project management team, coordinating with stakeholders etc.

Record your accomplishments.

After listing your previous job titles with duties, start recording your accomplishments i.e. the achievements that set you apart from others at workplace. This is all about answering the following questions (in reference to the account executive job title):

Were your customers satisfied with the value your products and services rendered?
Did you consistently win more business from the same clients?
Did your clients communicate their satisfaction to other companies? Did they recommend you to others for more business?
Upon achieving, were you entrusted to oversee more important clients?

Write down projects you have worked on.

This means writing down all those projects that you either lead or you worked on in the capacity of a team member. Ask yourself questions like:

What key projects were you entrusted with that contributed to company's growth?
Did you complete the projects on time and within budget?
Did you efficiently manage the projects?
Did you perform in a leading capacity and supervise other project team members?

Think about how you have interacted with others in past employment experiences.This point talks about the valuable soft skills you demonstrated in relation to working with others at the organization. Here you can think about:

Consider what you have learned from your past employment experiences.

This involves thinking about what you learnt and what led you to discover more about yourself and your abilities. There could be moments which enabled you to realize something new about yourself. For example:

You might have hesitated to work on creating reports in Excel, however, with a self-learning approach you devoted 30 minutes every day and realized that you could actually create appealing graphical reports to present to management.

Think about recognition you have received.

Recognition is primarily meant to reinforce your accomplishments. This could range from a simple reference email praising work you did or a certificate to acknowledge the value you added. You can ask yourself questions like:

Were employers pleased with your work and were willing to give you more challenging assignments as a result?
What formal recognition have you received in regard to a job well done?
Using Feedback You have Received to Draft Your Letter
Draw inspiration from positive feedback you have received.

You need to start by trying to actively take on board the positive feedback you receive from all sources. This is key, because many of us tend to easily forget when we are praised or appreciated.

Compliments land on us, slide off and we hardly remember them a few seconds later. However, listening to compliments is the fastest way to get an understanding of how others perceive your work. It's not just restricted to hearing, but you should write down each and every compliment you get, as they will help you to draft your value proposition letter later on. You should:
Practice actively listening to the positive feedback you get and write it down. Go through your old performance reviews, letters of recommendation and thank you notes. Identify and write down the praiseworthy points

Record genuine comments.The idea here is to record genuine comments and be careful that you do not alter them to reflect your own beliefs. Remember that other people are more objective about you and their feedback is often more accurate than your own assessment.

Ask for feedback from coworkers.

Previously you have been passively accepting positive feedback about you, however, you should go one step further and take a more direct and active approach.

Ask people across the organization to send you their feedback on your personality and performance via e-mail. In case your organization undertakes a 360 degree feedback, you can review that and compile all the messages you receive from all sources into a single document.
Identify 10-15 people whom you regard highly and whose opinion you respect. They will be those who will offer you a candid feedback when asked "What is the single greatest value that I provide?"
Record all responses and compile them, then sort through the feedback and identify common themes. Categorize all feedback and give each category a title. Don't change the exact writing or descriptive phrases.

Draft the letter.

Once you have gotten the feedback you need, you can now draft a headline which will be your value proposition statement. Include at the top left hand of the page:

[Full Name]
[Job Title]
[Business Name]
[Street]
[City, State Zip]

Add the meat of your letter.

The main body of your letter might go something like this:

[Greetings] Looking to achieve a significant boost in your organization's productivity? As a Production Team Lead, I possess skills that can serve to increase the output of your front line employees at a remarkable level, thereby enabling you to save time and resources and invest them on other business initiatives. Below are some of my specific skills and achievements, as described by my previous employers:
Daily parts quota exceeded by 6% on average.
Maintained a consistent output with a team of 7 people reporting directly to me .
Over a period of 1 year, workplace injuries were reduced by 3%.
With my experience and skills, I am proactively looking for new opportunities. Please let me know how I can help. Thank you and I look forward to hearing from you. Sincerely,
Name, Product Team Lead, Company XYZ

Proofread your letter.

It's very important to proofread your letter to look for any glaring typos or obvious formatting errors. These things can make your value proposition letter look unprofessional and can seriously harm your chances of being contacted for a job.

Once you have proofread your letter, ask someone else to look over it for you. Someone looking at the letter with fresh eyes might pick up on any errors you missed.
Once you are confident that the letter looks good and reads well, send it to your prospective employer.
Sample Value Proposition Letter
Community Q&A
Ask a Question
200 characters left
Include your email address to get a message when this question is answered.
By the end of this process, you should precisely know what others value about you. You will be amazed to see the input and you will be well equipped to communicate your value to others, as getting positive feedback is sure to instill more confidence in you.
When you set out to develop your marketing documents i.e. resume, professional bio or letter of recommendation as part of your job search, make sure all of them are in strong alignment with your value proposition letter.
Once you have written all of these documents, practice responding to the interview questions you may be asked in regard to the value proposition you have presented. You should be able to support the information in your letter with concrete examples.
Video: Creating a Powerful Employee Value Proposition | Talent on Tap
How to Write a Value Proposition Letter images
2019 year - How to Write a Value Proposition Letter pictures
How to Write a Value Proposition Letter forecasting photo
How to Write a Value Proposition Letter photo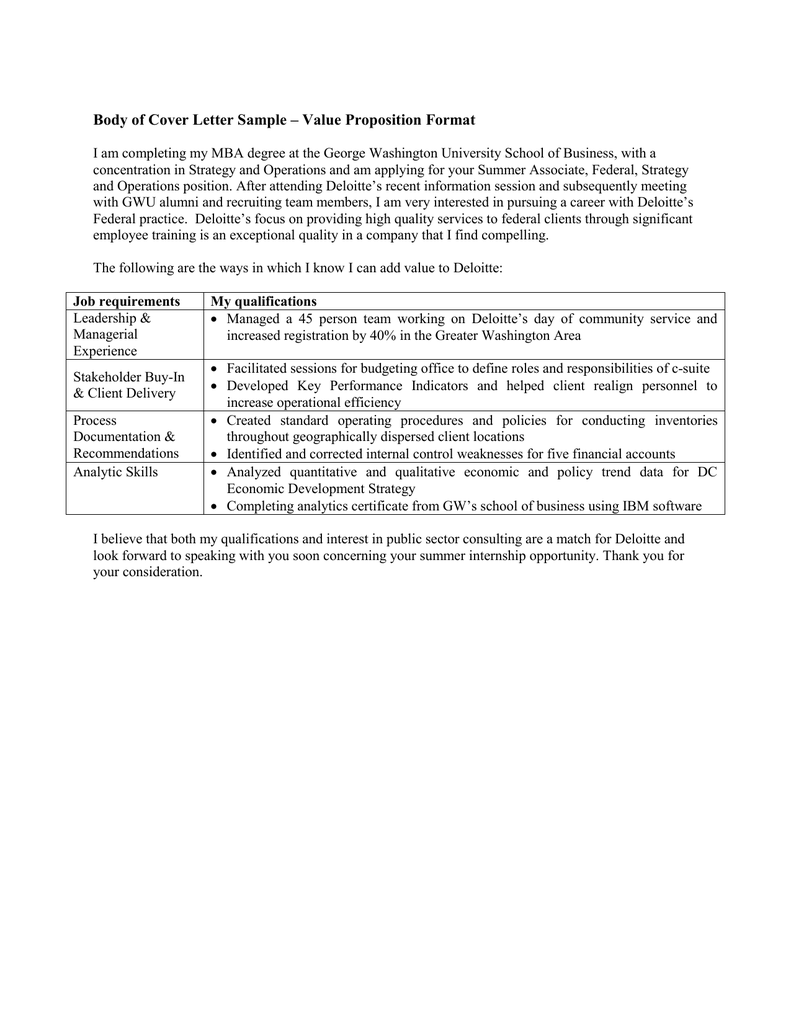 How to Write a Value Proposition Letter new pictures
photo How to Write a Value Proposition Letter
Watch How to Write a Value Proposition Letter video
Forum on this topic: How to Write a Value Proposition Letter, how-to-write-a-value-proposition-letter/ , how-to-write-a-value-proposition-letter/
Related News
The 100 Most Iconic Film Shots Of The Last 100 Years
Pack of 3 - LUX Premium Mens Briefs - White Cotton Open Briefs
Grieving Mother Shocked at What She Finds at Her Sons Gravesite After Cemeterys Policy Change
10 Wedding Traditions From Across the Country You Should Steal
How to Understand the Metric System
3 At-Home Workouts For Sexy, Shapely Arms
How to Install SQL Server 2005
The Number Of People Who Report Fungal Infections After Visiting Nail Salons Will Make You Want To Cry
Would You Try BB Cream for Your Body
37 Of The Best Curly Hairstyles For Men
5 Ways to Put Together an Event Without Stress
Date: 09.12.2018, 06:22 / Views: 52453
---